Generator Transfer Panel Installation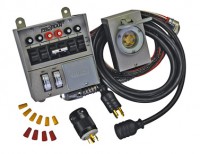 A personal note about Hurricane Sandy…
At our home in Westbury, we were lucky enough to already have a 5500 watt standby generator hooked into a switched generator panel. When the electric goes out (which still happens in 2020!), we plug in the generator and flip the switch. Heat, the refrigerator, coffee maker, TV, DVD player, cable TV, phone, computer, internet and some lighting are on the generator. We survived very nicely. Most people have had nothing for power.
Generator Transfer Switch Kits
Reliance Controls Transfer Switch Kit — 6 Circuit, Model# 31406CRK, with a five year limited warranty. This switch enables safe, efficient operation of up to 6 circuits to be powered by a portable generator. This switch meets all National Electrical Code requirements. UL listed. U.S.A.
Manual indoor surface-mount 6-circuit transfer switch
6-circuit 7500 Watt (30 Amp) prewired transfer switch
Accommodates generators up to 7500 Watts continuous output
Built-in mounting brackets
Tie bars for 240V circuits
Watt meters
Prewired/built-in junction box
Re-settable push-button UL489 circuit breakers
10ft. 30 Amp cord
30 Amp Raintight™ power inlet box
Extra 20 Amp plug end
Key Specifications
Weight 14.5 lbs
Circuits (qty.) 6
Amps 30
Watts 7,500
Volts 240
UL Listed Yes
Dimensions W x D x H (in.) 7 1/8 x 4 5/8 x 9 1/2
Made in the USA